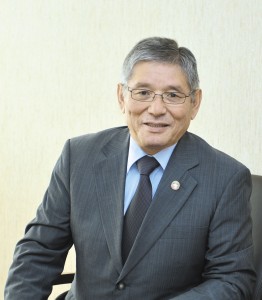 Kussayinov Amangheldy  Kussayinovich
Doctor of Historical Science, Professor, Academician of the Kazakh Academy of Education, Academician of  the International Academy of Science of a Higher School.
1960-1962 – a teacher of a secondary school.
1963-1973 – a teacher of the Almaty Medical Institute after graduating from the Kazakh State University named after S. Kirov, the official in the apparatus of the Soviet Regional Committee of the Communist party of Kazakhstan.
1973-1992 – post-graduate student, assistant lecturer, senior teacher, Docent, Prorector, Senior researcher, Professor of the Kazakh State University.
1992-1996 – Rector of the S. Seifullin Akmolinsky University.
1996-2000 – Rector of the L.N. Gumilyov Eurasian National University.
2000-2004 – Chairman of the Higher Attestation Commission of RK.
2004-2007 – President of the I.Altynsarin Kazakh Academy of Education.
From September 2007 till the present time Kussayinov A.K. has been working as the Rector of the Eurasian Humanities Institute. He determined the priorities and aims of the development of the Institute, directed to the improvement of the quality of training of competitive specialists. Scientific, scientific-pedagogical and administrative activity of the Academician Kussayinov A.K. is well-known in the Republic. During the years of his labor activity Academician Kussayinov A.K. educated a lot of talented followers – administrators and young scientists. Under the leadership of the Professor, Academician Kussayinov A.K. there were defended four Doctor's and sixteen Candidate dissertations on the specialty "Native History".
Kuissayinov A.K. is a scientist-pedagogue, the author of more than 150 scientific publications, devoted to the history of Kazakhstan, political movements of the XX-th century, the history of intelligentsia.
Main scientific works:
In the grip of choice (1990);
How it was (1993);
History of Kazakhstan in persons (1993);
Ыбырай Алтынсарин. Шәкәрім Құдайбердіұлы (2007);
Urgent problems of the innovative development of the historical science of Kazakhstan (2013);
History of Kazakhstan in the flow of the world historiography (2015).
Kussayinov A.K. is awarded: The Order of the Labour Red Banner (1982), Outstanding Worker of a Higher School of the USSR (1980), The Letter of Recognition of the Presidium of the Supreme Council of the Kazakh SSR (1980), The Honorable Letter of Recognition of the President of the Republic of Kazakhstan (1998); the Medals: «For Bravery» (1965), «20 years of the Victory over the fascist Germany» (1965), «For mastering the virgin lands», «Аstana» (1998), «Қазақстан Тәуелсіздігіне 10 жыл», «Қазақстан Республикасының қарулы күштеріне 10 жыл», «Тыңға 50 жыл», «10 жыл Астана», the Order «Құрмет» (2011), the Order of A. Baitursynov (2012), «Қазақстан Конституциясына 20 жыл» (2015).