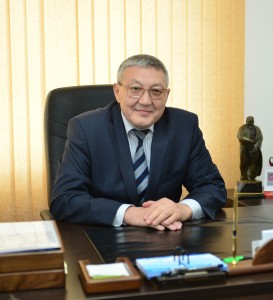 Issmayilov Amangheldy Dzhaksilikovich

Candidate of Psychological Science, Professor, corresponding member of the Kazakh Academy of Education. He graduated from M.V. Lomonosov Moscow State University, the faculty of Psychology. He began his pedagogical career in 1988 in the Akmolinsky State Pedagogical Institute as a senior teacher, Docent, then the Head of the Department, the Dean, later till 1996 he worked as the first Prorector of the Akmolinsky University. In 1996-2000 he was the First Prorector of the L.N. Gumilyov Eurasian National University. From October 2000 he was the Prorector on educational and scientific work of EAGI, from March 2004 till August 2007 – the Rector of the Eurasian Humanities Institute, from September 2007 till the present time – the First Prorector of EAGI.
Issmayilov A.D. carries out the purposeful work on the development of scientific researches, educational and methodological base of the Institute, introduction of innovational technologies of teaching, multi-leveled system of training the staff, forming the structure of the leaders of structural subdivisions by the specialists with the skills of modern management and their constant improvement. Issmayilov A.D. is a member of the Commission on the acknowledgement and nostrifications of the education documents, issued by foreign organizations of education, the Centre of the Bologne process of the MES of RK. He is the main editor of the editorial board of the scientific journal "Bulletin of EAGI", the member of the editorial board of the scientific journal "Reports of the Kazakh Academy of Education" which enter the list of publications recommended by the Committee on Control in the sphere of education and science of the MES of RK for the publication of the results of scientific researches in history, pedagogy, psychology and philology. Issmayilov A.D. is the author of more than 50 scientific publications on the problems of a higher school, aged, pedagogical psychology and psycho-diagnosis.
For the fruitful scientific and pedagogical work on training highly-qualified specialists Issmayilov A.D. was awarded the Medals: «Казакстан Конституциясына 10 жыл», «10 жыл Астана», «Қазақстан Республикасының Тәуелсіздігіне 20 жыл», the Badges of the MES of RK: «The Honorable Worker of Education of RK», «Ы. Алтынсарин», the silver Medal of A. Baitursynov of the Association of higher institutions of RK, Issmayilov A.D. was repeatedly marked by Gratitude Letters of the President of RK N.A. Nazarbayev.